LinkedIn is a great place to show off your academic achievements and gain connections for future job prospects.
So, even the commercial social media doesn't look appealing as TikTok or Instagram, it has its own benefits that you can not find on any other social media channels.
Today, we're covering all the basics to help you get started with LinkedIn and grow your professional online presence.
Let's get started...
Why Linkedin is Important for Students
There are many ways to use LinkedIn to help yourself succeed in school. Here are some tips to make it work for you.
Get Connected With People Who Can Help You Succeed In School
LinkedIn is a powerful tool because of how easy it is to connect with people who have influence over your career path.
You can start by connecting with professors at your university, alumni from previous schools, and current students.
These connections will be able to give you advice about what classes you should take, which majors you should focus on, and where you should apply for internships.
They'll also be able to point out jobs they know of that would be perfect for you.
Update your profile photo
Make sure you have a current headshot or professional image. If you don't, we recommend using one of our free stock photos.
Your profile picture is the first thing people see when they visit your page so it needs to be eye-catching.
Remember that, no one wants to engage accounts that don't have a profile image. So if you want to benefit from this business software then add a profile image to your profile.
Use the LinkedIn Search bar
The LinkedIn Search bar allows you to quickly locate people based on specific criteria such as industry, location, skills, etc.
For example, searching for "marketing manager" will bring up profiles of marketing managers in different industries.
5 Reasons Students Should Be on LinkedIn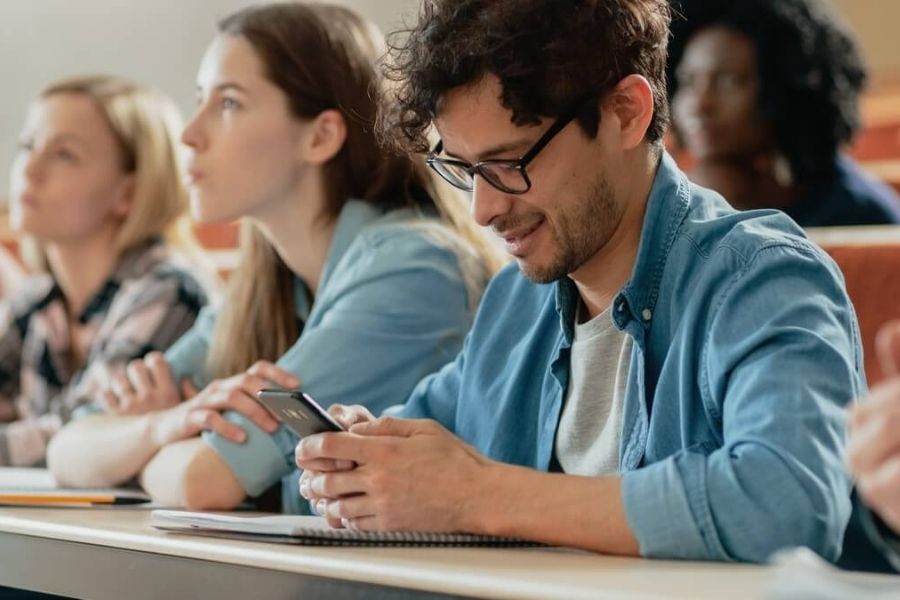 LinkedIn is one of the most popular social media platforms today. With over 500 million members worldwide, it offers students opportunities to build relationships, network, and learn about careers.
But many don't know how to use the site effectively. Here are five reasons why students should be on LinkedIn.
1- Build Relationships
One of the best things about LinkedIn is that it allows people to connect with others based on shared interests and common goals.
This makes networking much easier because you're already building a relationship with someone before you even meet them.
2- Networking Opportunities
Another great thing about LinkedIn is that it provides you with networking opportunities.
You can see who else is connected to you and reach out to those people to ask for advice, introduce yourself, and start a conversation.
3- Learn About Careers
LinkedIn gives you access to information about different industries and career paths.
If you want to change majors or decide whether or not you'd like to pursue a certain field, LinkedIn can give you insight into the job market.
4- Find Jobs
If you're looking for jobs, LinkedIn is a great resource. It has millions of companies listed so you can search by company name, industry, or keyword.
You can also find new jobs through groups and pages.
5- Stay Up-to-Date
LinkedIn keeps track of what's happening in your life. So if you've been accepted to an internship or graduate program, you'll get notified right away.
You can also keep tabs on your classmates' progress and share news about events at your university.
How to Create an Effective LinkedIn Profile
LinkedIn profiles are often overlooked because people think it's just another social media site. However, having a professional LinkedIn profile is essential for job seekers looking for employment opportunities.
Even though you don't want to sound like a robot, make sure you provide enough information for recruiters to find you. Here are some tips to help you build a great LinkedIn profile.
Write a short summary about yourself. This section should contain three things: what you do now, where you went to school, and your career goals. For example, "I'm a web developer specializing in PHP."
List Your Skills & Experience
List your most important skills and experience here. Don't forget to list your educational background, too. For example, "My degree is in computer science from XYZ University."
Include Links to Your Website & Social Media Accounts
Add links to your website and any other social media accounts you have. Make sure these links work properly and aren't broken. Include links to your Twitter, Facebook, Instagram, and YouTube accounts.
How to Network on LinkedIn
LinkedIn has become a go-to place for professionals looking to connect with potential employers, clients, colleagues, and peers.
With over 500 million members worldwide, it's easy to see why.
As a student networking will be beneficial for you on Linkedin because you can gain valuable connections and develop lasting relationships.
Below are some ways to create effective networks on LinkedIn.
Join Groups
Groups allow you to connect with other professionals in your area of interest. Join groups related to your major, hobbies, and current projects.
Follow People
When you follow someone on LinkedIn, they receive updates about your activities. They may comment on your posts or send you messages.
Reach Out
When you have something to say, reach out to others. Send them a message asking how their day was going or telling them about a project you worked on.
Create Contacts
You can add contacts to your network by clicking "Add Contact" under the "People" tab. Then, type in the person's first and last
Conclusion
Use LinkedIn to find jobs or internships. It's also a great resource for networking with other students. And if you're looking to get ahead in your career, this platform will help you develop valuable skills and stay up to date with trends in your industry.
Make sure you're updating your profile frequently. Add links to any relevant websites or blog posts. If you have an email address, be sure to update your contact information. You never know when someone might be searching for you!
Today's topic is How to Use Linkedin As a University Student, and we hope you'll find it useful. Check out our community blog for additional student-related material.
As you know, Harrington Housing offers affordable housing for those looking for top-quality student housing and co-living options in many cities across the country and has a friendly team of booking professionals to assist you every step of the way. Therefore, do not hesitate to contact us for top-quality student housing services.